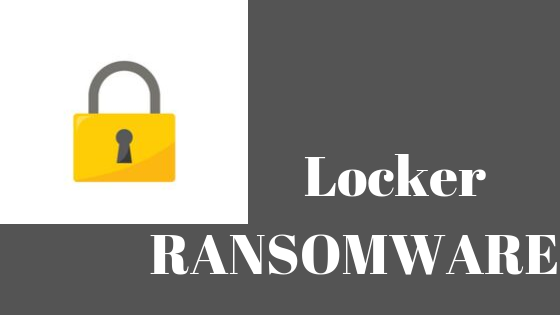 Locker ransomware is a virus that infects PCs and locks the user files, preventing access to data and files located on the PC until a ransom or fine is paid . Locker demands a payment of about $150 via Perfect Money or is a QIWI Visa Virtual Card number to unlock files .This particular variant affects Windows including Windows XP , Windows Vista , Windows 7 , and Windows 8 .
Locker ransomware is a copycat of another very nasty Ransomware that has infected over 250,000 computer systems named CryptoLocker . The name is derived from the window that opens on the infected device and has been dubbed the "Locker" ransomware by Lawrence Abrams of Bleeping Computer.
How Locker Ransomware Works :
Locker encrypts most stored data using RSA-2048 and AES-256 cryptographies. From this point, files become unusable. During encryption , Locker renames files using the "[random].locked" pattern (e.g., "sample.jpg" is renamed to "a jpg.locked"). Following a successful Encryption process Locker places the  "[HOW_TO_DECRYPT_FILES].html" file on the desktop .
How Locker Ransomware Infects :
Ransomware-type viruses are proliferated in various ways, however, the most popular are spam emails, unofficial software download sources, fake software update tools, and trojans. Spam emails often contain various malicious attachments (e.g., JavaScript files, MS Office documents with macros, etc.) that, once opened, download and install malware. Third party software download sources (e.g., freeware download websites, free file hosting websites, peer-to-peer [P2P] networks, and so on) proliferate malware by presenting it as legitimate software – users are tricked into downloading and installing viruses. Fake software updaters exploit outdated software bugs/flaws to infect the system. Trojans are the simplest ones – they merely open "backdoors" for malware to infiltrate the system. Essentially, the main reasons for computer infections are poor knowledge and careless behavior.
How to prevent yourself from Locker Ransomware :
To prevent ransomware infections, be very cautious when browsing the Internet. Never open files received from suspicious email addresses – these emails should be deleted without reading. Furthermore, download your software from official sources only and, preferably, using a direct download link. Keep installed applications up-to-date and use a legitimate anti-virus/anti-spyware suite, however, bear in mind that criminals proliferate malware via fake updaters. Therefore, use either an implemented "Update" function or an updater provided by the official developer. The key to computer safety is caution.
For more cyber security information contact us at help@theweborion.com